HOME

>

CSR

>

Environmental Management
What we can do for the environment
Environmental Management
Environmental Philosophy
We engage in environmental conservation activities while assessing the environmental footprint of our business activities, according to PLUS Group Environmental Philosophy and Policy.
Product Development
As a manufacturer, we strive to develop unique, ecological and user-friendly products which create a new value for consumer.
Distribution Development
From a social point of view beyond the scope of a company, we work on reconstruction of the business structure to improve efficiency of distribution by sharing functional capabilities in distribution network.
Environmental Policy
We put our Environmental Philosophy into action according to the following principle.
We consider the environmental impact of our business activities, products and services, and strive to prevent pollution.

・We develop unique environmentally friendly products and services that create new value.
・We promote environmental conservation activities in all areas of our business activities.
・We reduce the environment load by eliminating any overlapping operation.

We comply with all relevant environmental laws and regulations, and requirements agreed upon by each department.
We set environmental objectives, carry out and revision the plans for continual improvement of our environmental management system.
We strive to conserve energy and resources as well as to reduce and recycle waste in our business practices.
We seek to raise awareness of environmental conservation through environmental education.
We share this environmental policy with all employees working in the organization and making it accessible to the general public.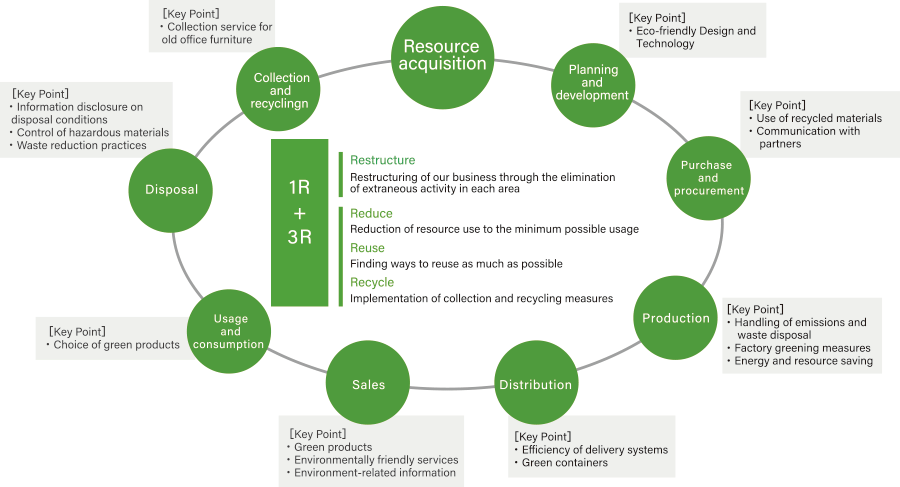 ISO14001 Certification
PLUS Corporation first gained ISO14001 Certification in February 2000. As Corporation demerged into industrial-focused business units, each subsidiary had built its own environmental management system to apply its uniqueness of business to environmental conservation activities , achieving ISO14001 certification individually.
In 2009, PLUS Corporation began restructuring and consolidation of subsidiaries, followed by consolidation of the environmental management systems, then PLUS Corporation gained the updated and consolidated ISO14001 Certification in September 2010.
By cross-fertilization and sharing of environment-related information, knowledge and range of technologies accumulated within each company, PLUS Corporation and PLUS Group companies aim to improve group-wide environmental conservation activities and to increase our corporate value through new environmental-friendly products and services.
Within PLUS Group, currently PLUS Corporation, Biznet Corporation, and Ichimudo Co., Ltd. have been ISO14001-certified.
| | |
| --- | --- |
| Registered company | PLUS Corporation |
| Date of first registration | February 29, 2000 |
| Registration number | NQE-0008A |
| Scope of registration | Products Planning, Design/Development, Manufacture, Production Control, Purchase, Sale, Delivery Control, Maintenance and Supply of Service Parts for Office Furniture, Commercial Facility Furniture, Home Furniture, Stationery, Office Supplies, PC Article, Educational Equipment, Presentation Product, Media Board, etc.; Wholesale, Retail and Repair of Room Equipment; Design/Development and Construction Control of Interior Decoration; Offer of Services; Offer of Purchase and Logistics System that utilizes IT; Outsourcing Service for Internal Logistics Placing Logistics Services at the core; Business Management |
| Registered premises | Toranomon Headquarters, Ichigaya Office, Akasaka Office, Maebashi Plant, Tokorozawa Plant, Biznet Corporation Gobancho Office, Ichimudo Co., Ltd. |
| Registration examining authority | Nippon Kaiji Kentei Quality Assurance Ltd. |
In-house Training and Education on Environmental Issues
PLUS Group carries out in-house training programs on environment-related matters in order to foster basic knowledge and deepen understanding of environmental issues, such as online courses targeted for all employees and induction courses for new recruits. Those education programs feature social trends concerning the environment, as well as our environmental activities through the course of our business activities, products and services.